The Elite Basketball Academy has been a great success since we introduced it in 2013. Participants will receive individual and group instruction from our qualified and experienced team of coaches. They will help students hone their basketball skills and grow in the sport generally.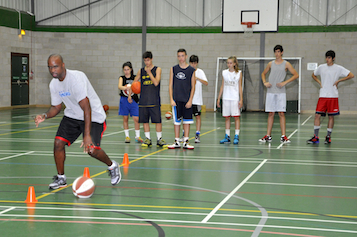 The daily format includes fundamental instruction, lectures, mini competition, 1 on 1, Free Throw, Shooting, and 2 on 2 or 3 on 3 mini tournaments. There will also be team games with some local opposition. The main objective is not only to develop new skills and/or improve existing skills but to ensure each student leaves the Academy with renewed energy and enthusiasm for the game of basketball and improved self-confidence.
The Epsom Elite Basketball Academy is a great place for any young basketball player who is looking to improve his/her skills, work hard, make new friends and have fun!

COACHING STAFF
We are delighted to welcome back Lorenzo Perego as Head Coach in 2017.  He is a former professional basketball player.
An Italian from Milan, he is currently working as Basketball coach with a professional team.  He has significant experience working with players from 6 to 18 years old and started his coaching career in 2009.  He is licensed through The Italian Basketball Federation and since 2014 he has been working with U15 national team as one of the coaches.
He has played in different basketball clubs for 17 years at regional and national level.
SKILLS
Shooting
One-on-one Moves
Passing
Ball Handling
Movement Without The Ball
Screening/cutting
Man-to-man Techniques
Defense Positioning
Rebounding
Team Play
Daily Scrimmages
Competitive Matches