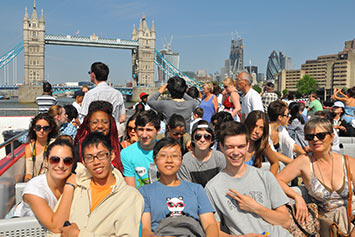 This will be the fifth year that Project International have run their "Discover LONDON" programme after four successful and well received years.
The programme offers students aged 13 – 18 the opportunity of learning in depth about London and all the hidden delights of the English capital. The course will be for 2 weeks (9th – 23rd July). Students will be accommodated with families, within easy reach of Central London.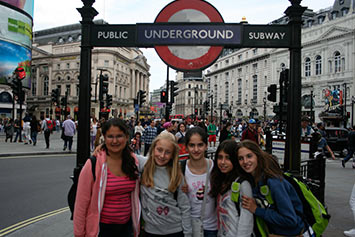 Each weekday they will travel into Central London, by train, either for morning lessons with experienced and highly motivated teachers or to proceed directly with that days visit. When there are lessons, they will be held in excellent, modern classrooms at THE INSTITUTE OF EDUCATION in the Bloomsbury area of central London (close to Covent Garden). The Institute (known as the IOE) is part of London University.  A classroom session will focus on a different aspect of London – The Monarchy, St Pauls Cathedral, London Theatre, Art in London, Entertainment in London, etc. Later, students will visit sites related to the topic they have studied in the mornings accompanied by their teacher.
This is a unique opportunity to combine seeing London with actually learning in detail from an inspirational expert about the capital's different attractions and seeing them at first hand!
Course Info
Age: 13 – 18 years old
Language: Need a good level of English (min. Intermediate)
Date: 9th – 23rd July
Special Features
London Travelcards for unlimited use on selected trains and all the underground during weekdays.
On Saturdays, full-day excursions will be organised to OXFORD & CAMBRIDGE with Escort
One free Sunday.
Groups and individuals accepted; however the programme is subject to a minimum total of 10 students enrolling.
Morning Lessons
Afternoon Activities
Family Stay
Sample Schedule
INSTITUTE OF EDUCATION
The Institute of Education (IOE) is one of the colleges that make up The University of London.  The IOE is the leading Centre in the UK for research into Education and related disciplines.
Location:
It is located in the fashionable Bloombsbury are of the City, close to the British Museum and Covent Garden.  This enables students to have unrivalled access to the West End of London and to the heart of the shopping district.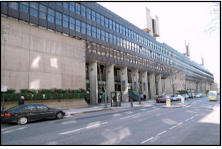 Facility:
The IOE provides excellent classrooms with state-of-art equipment for lessons.  There will also be Teacher access to the internet.
Lessons:
15 hours of classroom based learning is included over the two weeks and when applicable classroom sessions will focus on a different aspect of London. Not only learning about London, students will interact, discuss and present their opinions with other international classmates and the teacher. The teachers will be well qualified in their knowledge of London. It should be noted that these are not TEFL classes, although help with English vocabulary will be given where necessary.
Topics which are expected to be covered include:
The Monarchy
History of the Tower of London
Art in London
Multicultural London
Entertainment in London
Visits in LONDON – Discover the gems in the city
After lessons, the students and the teacher will visit a place of interest related to what they studied that morning. The aim is to deepen their understanding and discover a new aspect about this fascinating city.
For example…
Greenwich Royal Observatory
Tower of London & St. Paul's Cathedral
National Gallery & Museum of London
Musical show in London's famous West End
Carefully chosen areas within easy access of Central London.
Host families will provide full-board accommodation (breakfast, packed lunches and dinner). Dinner on the arrival day and breakfast/packed lunch on the departure day are included.
Morning sessions start at 09.30.
Afternoon visits will finish around 17.30
DAY
Morning
Afternoon
Evening
Sunday
Arrival & transfer to host families
Dinner & evening with families
2
Welcome:     History of London
Museum of London
Dinner & evening with families
3
Lesson: The Monarchy
Royal Walk
Dinner & evening with families
4
Lesson: Multicultural London
St Paul's Cathedral
Dinner & evening with families
5
Lesson: Entertainment in London
National Theatre Backstage Tour
Musical
6
Thames River Cruise
Royal Observatory
Dinner & evening with families
7
Excursion to Cambridge
Dinner & evening with families
Sunday
with Host family (or departure for one week stay)
NB. The schedule is sample ONLY and timings may vary due to the nature of the visit or other reasons beyond our control. On some days there will be no classroom session but instead a full day visit(s)